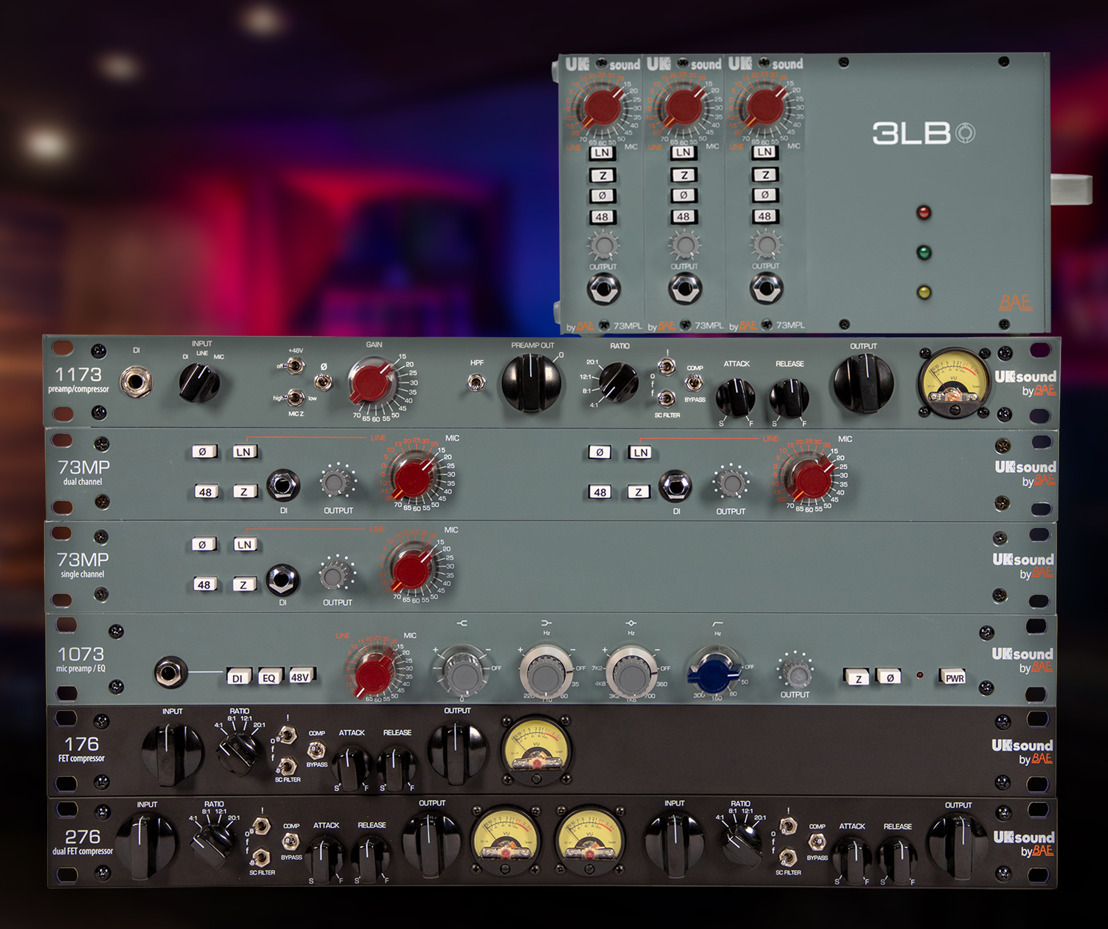 UK Sound Hits NAMM 2020 with Full Line of Authentic and Affordable 1073 Preamps
UK Sound products priced for working professionals and hand-assembled by BAE in the USA
Anaheim, CA, December 16, 2019 – BAE Audio subsidiary UK Sound [ACC North, Booth 15721] has announced that they will be showcasing their full family of high-quality and affordably-priced 1073 preamps at the 2020 NAMM Show. Building on BAE's twenty year-plus legacy of continuously producing authentic 1073s that are faithful to the original design specifications, the new units – which include the 1073 Mic Pre EQ, Single and Dual Channel 73MP, and the compact 500 series 73MPL – offer the same classic sound and peerless build quality that BAE is known for while being priced for working musicians and home studio owners.

"So many of the greatest recordings in popular music have been made with 1073 preamps. It's a sound that's beloved for a reason," said BAE President Mark Loughman. "Our mission with the UK Sound line was to make these classic sounds accessible to a wider range of musicians and recording engineers, without any compromises to quality, performance, or durability."
The new preamps join the existing range of UKSound products, including the 1173 Mic Pre Compressor, 176 FET Compressor, and 276 Dual Channel Compressor. As with all BAE products, the UK Sound line is assembled at BAE's headquarters in Hollywood, California using authentic components and adheres to BAE's exacting build and performance standards. All products are currently shipping now.
Expanded versatility in the studio
​In addition to the full line of UK Sound products, BAE will also be showcasing their 500-series 73EQL module and R53 Channel Strip at the 2020 NAMM Show. Both demonstrate BAE's continued innovation in high-quality and versatile studio gear that will bring any engineer's signal chain to the next level.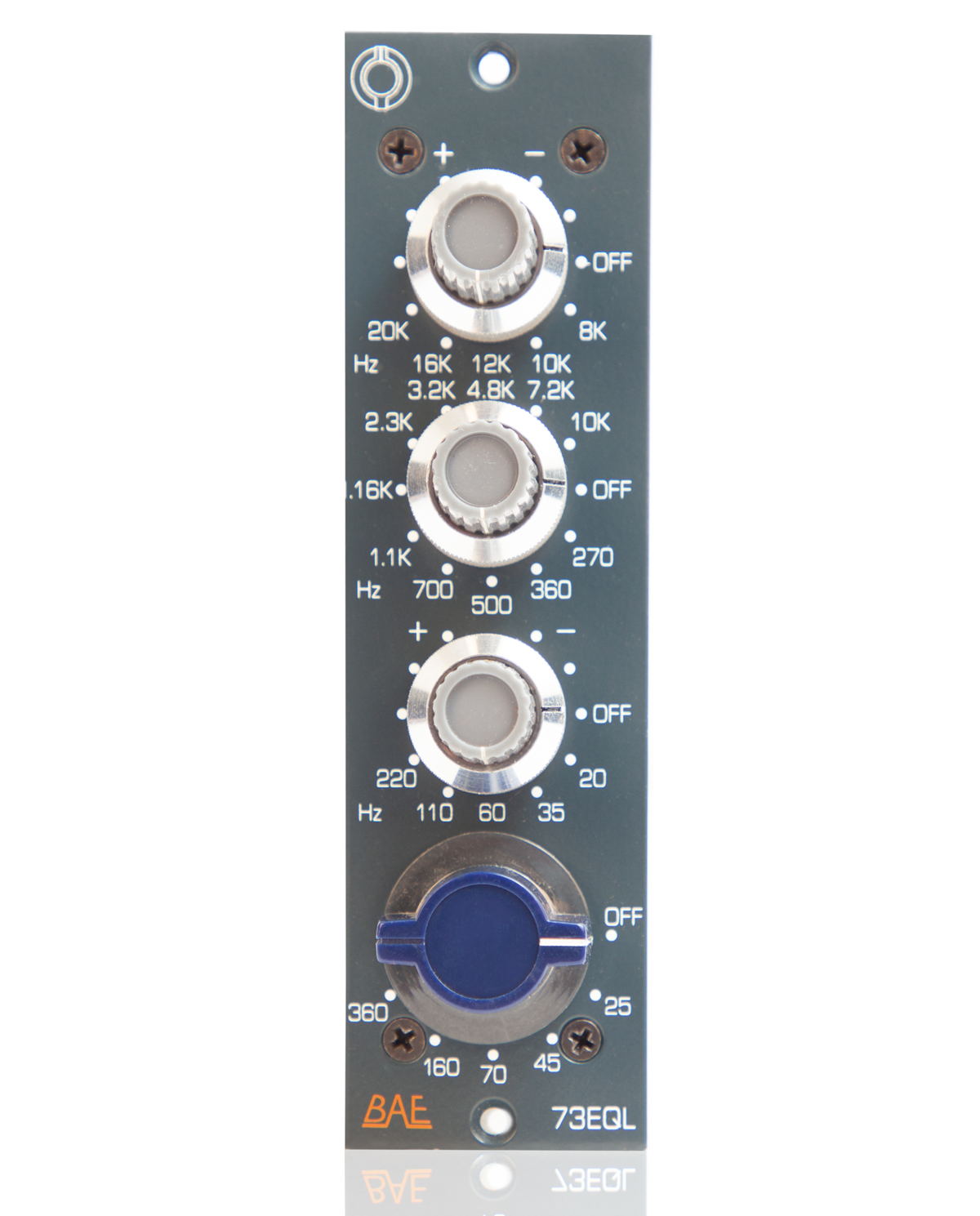 The 73EQL is the latest entry in BAE's 500-series line of 1073 circuits, packing a powerful and musical three-band EQ into a compact 500-series rack module without any compromises in sound or build quality. The unit is hand-wired in the USA and uses the same authentic Carnhill transformers, inductors, and Elma switches as its larger counterparts.

The R53 Channel Strip is a solid steel 19" rack unit that can hold up to three 500-series modules, thus allowing engineers with traditional rack systems to utilize these modules in a regular 19" rack setup as well as link them for use as a channel strip. The unit also includes a robust power supply and is easily serviceable for long-term use. BAE is currently offering a promotional bundle that includes the R53 free of charge with the purchase of any three of BAE's 500-series units, assuming there is at least EQ and one compressor included.
During NAMM 2020, BAE Audio and UK Sound will be located at ACC North, Booth 15721.
For more information please visit http://www.baeaudio.com/
About BAE Audio
​BAE Audio is a U.S.-based manufacturer of high-end microphone preamp and equalizers, all of which are faithful to vintage designs of the seventies and before. The company is committed to the vintage philosophy of hand wiring and hand soldering all of its components to achieve a high quality and authentically vintage sound. For more information on BAE Audio, please visit our website at www.baeaudio.com.

Jeff Touzeau Public Relations, Hummingbird Media, Inc.

Stephen Bailey Public Relations, Hummingbird Media, Inc.