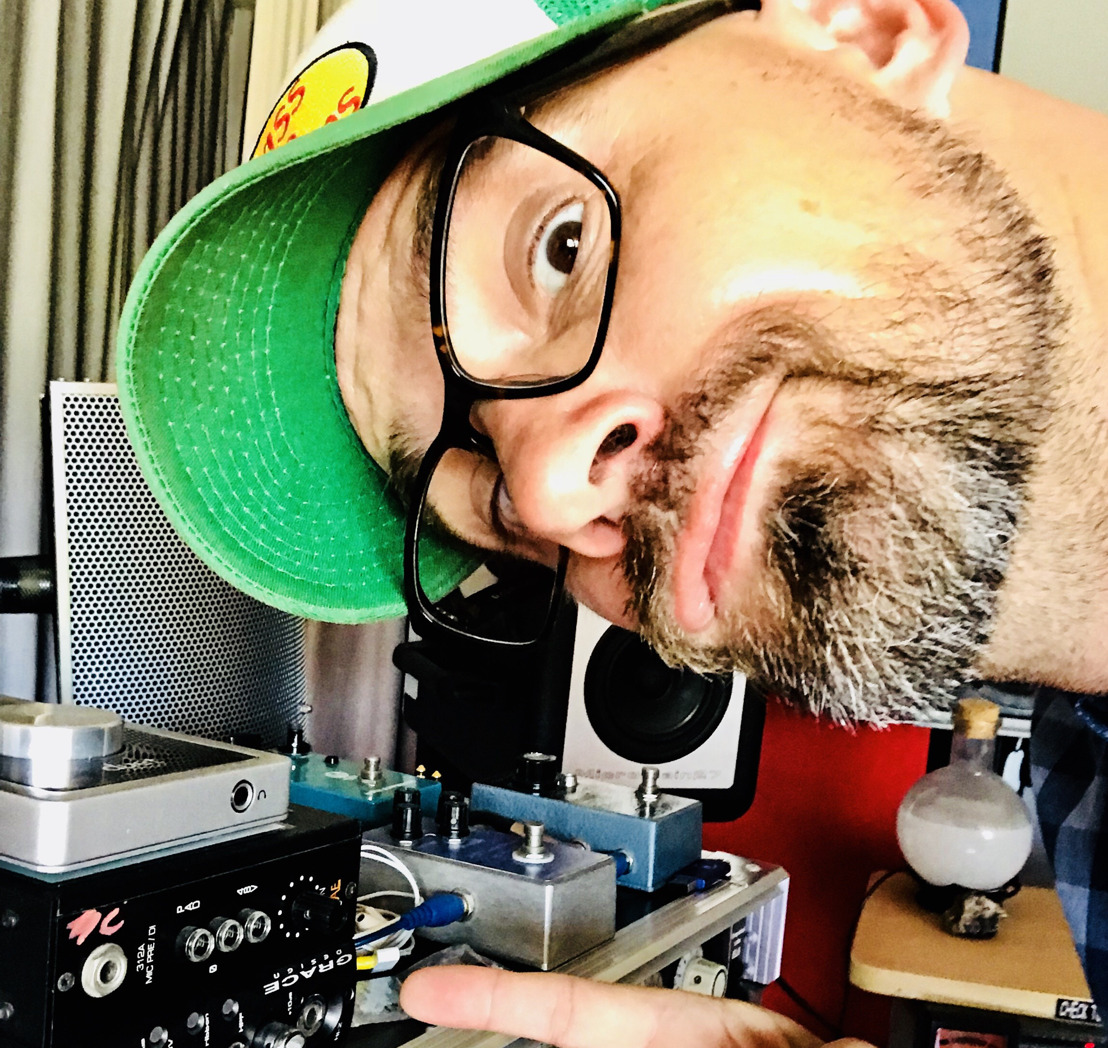 Christian James Hand of The Session Radio Show Discusses the 'Building Blocks' of Studio Recording, with the BAE 312A Preamp by His Side
His Monday Morning Radio Show on LA's 95.5 KLOS Helps Many Thousands of Listeners Understand 'The Magic Behind the Music'
Monday, June 18, 2018 — Hollywood, CA — Christian James Hand's life has been interwoven with music — all the way back to his college days at State University of New York (Purchase State College), where he was instrumental in revamping the campus' college radio station. Since then, he has parlayed his vast music industry experience — which has included A&R, touring, producing records and DJ-ing— into 'The Session', a radio broadcast that breaks down the greatest classic recordings track by track for audiences each Monday morning on Los Angeles' famed 95.5 KLOS radio on the Frosty, Heidi & Frank Morning Show.
The energized radio show, which is often done in front of a live audience alongside his colleague Mike S., plays and disseminates some of the greatest songs ever recorded track by track. When listeners walk away, The Session promises they 'will never hear these songs the same way again'. This is achieved by exploring the unique chemistry, approach and building blocks of artists like The Who, Marvin Gaye, Toto and many others.
On many of his programs, Hand goes into depth on the tools these artists rely on, as well as the unique recording studio environments they all work in — the tools, environments and instruments are often the 'unsung heroes' in music creation. Hand helps his audiences understand these tool choices — through raw knowledge and a healthy dose of humor. "All gear is not the same, and it is as different as a guitar is from another guitar. On my show, I am constantly able to deliver that kind of knowledge," says Hand. "To be able to center it all in factual information while people are laughing, enjoying themselves and listening to this beautiful music is very rewarding."

Home is where the heart is with BAE
Hand, who is an accomplished producer in his own right and who has toured alongside the likes of Peter Gabriel, PM Dawn and Biohazard, is careful in choosing his own building blocks and music tools in his own studio in Hollywood. "One of the blessings of my career is that I know enough about all the little steps to bring them into the context," he says. One of his recently acquired tools is the BAE Audio 312A microphone preamplifier, a 500 series rackmount unit, which is his 'go-to' preamplifier for vocals and guitars. "Each piece of gear is chosen for a specific purpose — whether it is a 312 or a 1073," he says. "Nothing is done by happenstance, unless it is one of those lucky little things where you plug the thing and suddenly it does this other thing that you didn't know it was going to do."
Hand's BAE Audio 312A was personally wired and hand signed by BAE Audio president Mark Loughman. "When Mark and I met the first time, we listened to the BBC World Service, drank a cup of tea and then he handed me a 312A mic pre. He built that 312 right in front of me, and I know it will last longer than I will."
One of the great privileges of Hand's position is that he is able to impart his ever-increasing production knowledge to an eager and enthusiastic listenership: "If I hadn't bought that BAE preamp, or researched gear myself, I wouldn't be able to explain to people who may have never walked into a recording studio in their life how vital their gear choices are — and why the harmonic distortion of a 312 is a choice people should make."
Listeners who tune into The Session on 95.5 KLOS each Monday morning at 9:00 a.m. can not only gain knowledge from Hand's expansive knowledge of music — and the comprehensive elements that comprise it — but also rest assured that Hand practices what he preaches in his own studio with BAE Audio.
To learn more about The Session, please visit http://www.955klos.com/the-session-with-christian-james-hand/
To learn more about BAE Audio, please visit http://www.baeaudio.com.

Jeff Touzeau Public Relations, Hummingbird Media, Inc.